Q. Why does my Microvox does not seem to be very loud?

You probably have your Microvox connected to the 'Line' input of your amp. It is a microphone and therefore should be connected to the 'Mic' input. On most modern amplifiers, the microphone input is an XLR (3 pin) socket so a Mono Jack Plug to XLR connector is needed to connect the Microvox PSU to the amp. The standard pin configuration for mono/balanced line XLR is:
Pin 2 - Signal
Pins 1 & 3 - Screen
We can supply a Jack/XLR male cable if necessary.

Q. Will my Microvox work with the phantom power switched on ?

You cannot use phantom power if you are using a balanced line (XLR) input on your amp. If there is no way to turn off the phantom power on the channel that you are using then you will either have to use the 'Line' (Jack) input or, if that input is not loud enough a DI box and the 'Mic' input. An alternative is to use a pre-amp with the 'Line' input.

Q. Can I use my mixer's phantom power instead of a Microvox Power Supply?

The phantom power on most mixers is set at 48v. This is far too high a voltage for Microvox microphones and so a PSU must be used.

Q. How is the balance between the two PSU inputs adjusted?

Plug the mic which needs to be quieter into the adjustable (Red) input,
remove the back and reduce the volume of the adjustable input as shown: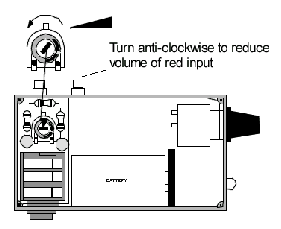 Q. What about guarantees, servicing and repairs?

All Microvox products are guaranteed for three years from date of purchase. Repairs to older products are usually carried out free of charge provided that faults are not caused by misuse. The maximum charge for repairs is 10.00 UK Pounds including shipping. All repairs are carried out immediately and returned within one week (UK). We have an authorized US repair facility - Please contact us for authorization before sending repairs .

Q. What if I find the microphone unsuitable?

If you find that the microphone is not suitable, you can return it undamaged or altered within one month and we will refund the purchase price.
There is more information on our web site at : http://www.microvox.co.uk