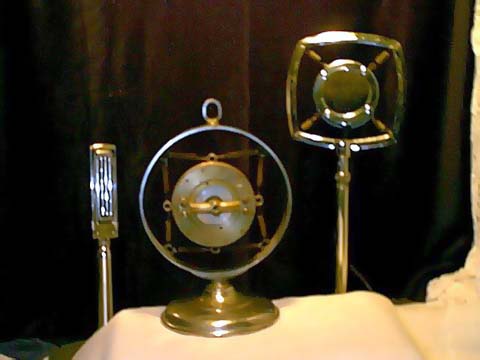 DJ's Custom Electronics has a staff that is well versed and established in custom electronic applications with relation to vintage microphones and vintage tube amplifiers. That staff would be Dennis J. Oellig, a.k.a. Mr. Microphone.
The business is licensed in the State of Missouri and registered with the federal government. The logo and moniker are also appropriately aliased, registered, and copyrighted.
DJ's is able to perform restoration on vintage mics both functionally and cosmetically. A large stock of vintage parts of all kinds makes this possible.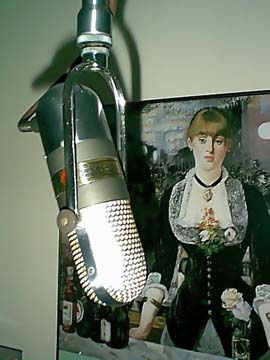 Modifications of almost any kind for almost any microphone are available. This would include cord changes, volume controls, on/off switches, XLR, 1/4" phone, mic connectors, pigtails, element and parts replacement.

Custom built harmonica microphones are the main focus of DJ's. Custom builds are done on an individual basis for each player. There are no shelves full of pre-built mics. There are over twenty amplifiers on hand to "match" sound you will hear from your amp. This has proven to be extremely successful for customer satisfaction. Tonality, functionality, and reliability are essential to every Custom.

DJ's builds from vintage mics only but will modify almost any mic. The "standards", such as the JT30 and 520, are available in original colors or can be customized by paint or chrome. There are many other mics in stock which are very well suited to the "cup". Repairs, modifications, and customizations are available for your "reissues".

Custom finishes include custom automotive paints in solids, metal flakes, pearls, and black lights. Custom logos and designs of your choice are also possible. All painting jobs are clear-coated for durability. Of course, triple chrome is always an eye-catcher.

Volume controls (with some very nice functional options) are available in many values. (Some even go to 11!) Colored grill cloths and a large variety of knobs add to additional choices to make the Custom your very own!

Elements available for installation include Astatic 151 crystals / 127 ceramics, vintage Shure magnetics, and CR's. Turner magnetics / crystals / ceramics and various Calrad elements are on hand, too.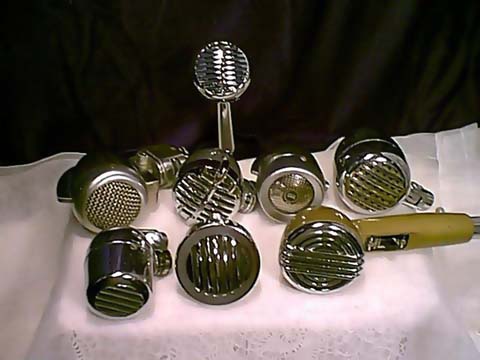 Custom builds are quoted per job.

Rentals of vintage mics and amps are available for performance, promos, and photo shoots.

Additional information and pictures will be added often. So, visit frequently and call with any questions!

Thanks for "takin' a walk on the serious side!"